WE ARE OPEN!
We have resumed our normal business hours of 6 AM – 2 AM everyday of the week.
We are now open for dine in seating with CDC guidelines in place for social distancing. We also have our spacious patio with a full service bar for outdoor dining.
Thank you to all our dedicated customers for continuing to support us through this difficult time. We look forward to serving and seeing you soon!
Operation hours are subject to change, so please check back and stay safe.
Thank you, your Angie's family
---
Angie's Diner and Lounge is a popular non-smoking family friendly Diner and Restaurant-Bar serving patrons from the greater Harrisburg PA area including: Highspire, Middletown, Steelton, Hummelstown, Hershey, Elizabethtown, New Cumberland and surrounding areas.
We offer traditional American Cuisine as wells as Greek and Mediterranean foods.
Our bar offers daily drink and food specials. Do not miss our patio where you can sit outside, enjoy the weather and full service.
So, stop in with your friends and enjoy our friendly atmosphere.
Beer Specials:
Monday
Budweiser Drafts $2.25, $6.50 Pitchers
Tuesday
Coors Light $2.25 Drafts, $6.50 Pitchers
Wednesday
$2.00 Domestic Drafts ALL DAY
Budweiser, Yuengling Lager, Coors Light, Miller Lite, Bud Light
Thursday
'It's Thirsty Thursday'
$3.50 Craft Beer Drafts ALL DAY
Friday
Yuengling Lager $2.25 Drafts, $6.50 Pitchers
Saturday
Miller Lite $2.25 Drafts, $6.50 Pitchers
Sunday
Bud Light $2.25 Drafts, $6.50 Pitchers
Ice Cold Beer to Go: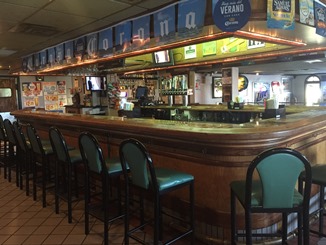 DOMESTIC
Coors Banquet
Coors Light
MGD
Miller Lite
Rolling Rock
Colt 45
Pabst Blue Ribbon
Blue Moon
Redd's
Miller Fortune
Budweiser
Bud Light
Yuengling Lager
Michelob Ultra
Michelob Amber Bock
6 PACK CIDERS & COOLERS
Mike's Hard Lemonade
Smirnoff Flavors
Johnny Appleseed
McKenzie's
Seagram's
Twisted Tea
Angry Orchard
TROEG'S 6 PACKS
Hopback
Dreamweaver
Perpetual
Trogenator
Pale Ale
6 PACK BOTTLES
IMPORTS
Heineken &
Heineken Light
Labatt Blue
Molson Golden
Stella Artois
Amstel Light
Guinness Black Lager
Corona &
Corona Light
Becks & Becks Dark
12 PACKS – 12oz CANS
Miller Lite
Coors Light
Keystone Light
Natural Ice
Natural Light
Budweiser
Bud Light
Yuengling Lager
Michelob Ultra
12 PACK BOTTLES
Miller High Life
6 PACK – 16oz CANS
Old Milwaukee
Colt 45
Busch
QUARTS & 40's
Coors Light
Miller Lite
Colt 45
Old Milwaukee
Yuengling Lager
Ask about our selections
of Seasonals and Crafts!